Embracing Purpose Prison Ministry
A wide door for effective service has opened to me. I Cor 16:9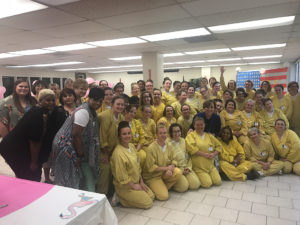 When I wrote Embracing Purpose many years ago, I never dreamed God would use it with incarcerated women. But God's dreams often exceed those of His people. As He opened first one, then other prison doors, precious women were able to work through the material with leaders from the free world.
Women behind bars learned that they, like their free-world sisters, have great value, that they have gifts, talents and life experience that God can use. They learned that Jesus loves them with an everlasting love and His plan has always been to use them.
We leaders had found a whole other world right here in our own backyard, a mission field full of vulnerable women. We don't have to book a week-long international flight or get a passport. Just a background check. Missional activity became part of the everyday rhythms of our lives.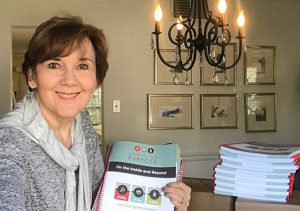 Prison Resources
After witnessing fruitful ministry and changed lives for almost a decade, I became convinced that God wanted me to write a special edition of Embracing Purpose for the incarcerated woman. Today Embracing Purpose On the Inside and Beyond is a complete package consisting of a workbook, a 10-message DVD series, and a leader guide – everything leaders need to launch the program in a facility near them. 
Contact us to learn how we can partner together to bring Embracing Purpose prison edition to incarcerated women in your area. 

Here's what some of our leaders had to say when asked, "Why are you involved in prison ministry?"
Karen A.: Wanting to be an ambassador for Christ triggers the following questions in me, and after serving in the Embracing Purpose prison program, the answers are clear:

Where will I find deep, raw need for the Lord? …. prison ministry!
Where will I find women who respond to God like a sponge to water? … prison ministry!
Where can I go to both share and serve the Lord with abandon?… prison ministry!
Where can I pursue my God-given purpose? …. prison ministry!
Where does God's grace explode in hearts? ….prison ministry!
Where is God's faithfulness underscored by answered prayer? …. prison ministry!
Where can inmates experience rare authenticity? Embracing Purpose!
Jennifer H.: When I walked into the barracks for the first time 12+ years ago, I was not prepared for the emotion that came over m: "These women are like me! This could be me but for the grace of God." I suddenly knew – every woman here matters and has great value because God created her and loves her. I leave each session, not as the 'blesser' but as the one blessed.
Denyce G.: God never gives up on me. He always loves me in spite of the messes I make of my life… What He has done for me, I want to do for others. I treasure being a part of this ministry because it truly heals, restores, and saves hearts and souls.
Sheryl N.: I was tired of the typical women's ministry study. I wanted something authentic, real. I am an addict, involved in AA, and I have seen firsthand the heartache caused by addiction. And I have seen the love of Christ change people from the inside out. Prison ministry has shown me that we ALL are one step away from being where these women are. I want to be there for them.
Eva E.:  I joined prison ministry at first because I was looking for something to do to help people who were struggling in this life. Why am I still involved? The women are precious and I love them! They are God's children just like we are, dealing with things you can't imagine.
Connie W.: Through prison ministry I watch women 'on the inside' experience God's grace and mercy and leave prison with peace and joy they thought they'd never have. Having been on several foreign mission trips, I much prefer being able to impact women in my community on a weekly basis.
Linda Slaton, author of Embracing Purpose: I'm involved in prison ministry because God has made it clear He wants me to be. Never has my capacity for compassion been more peaked than when I'm sitting with women who are locked up and separated from everyone they love. Every moment with them puts my petty problems in stark perspective.