Give. Be a Part of the Embracing Purpose Story.
God is clearly writing a story. Plot line: Lives are changed as women embrace God-glorifying, soul-satisfying, difference-making PURPOSE. Their lives and the lives of those they touch. And it's not just us 'free world women' who are touching the hurting; our incarcerated sisters are, too. Those we came to serve are becoming servants themselves – behind locked doors & razor-wire fences.
Isn't that the whole point?
Help us equip women – free and incarcerated – to maximize their time, talents and treasures for the kingdom.
Which of the specific needs tugs at your heart?
$50 — Sponsor one inmate to enroll in the Embracing Purpose academy series (three studies, 9-month ministry year)
$400 — Sponsor a small group of 8 in prison
$3,000 —Sponsor an entire prison class of 60 women
$4,000 — Give toward leadership grants for foreign leaders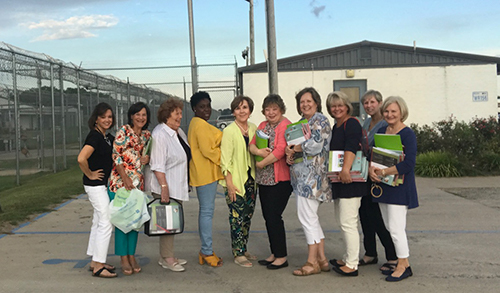 Prison leaders outside Wrightsville correctional facility near Little Rock