Leading Embracing Purpose Groups
Wherever you are on the path to purpose, still searching or now embracing it, you can be on mission with us as we equip women to maximize their time, talents, and treasures for the kingdom and experience joy in LIFE – Living Intentionally For Eternity.
How do I begin?   
Gather 5 – 10 women to participate in the 10-lesson (11-session) study.

Purchase Materials: You (leader) will need to choose either the Leader Bundle with DVD Set (for use with a DVD player) or the Leader Bundle with Online Videos, both include 1 workbook, 1 leader guide and the video series. Each group member will need to purchase her own EP workbook.

 

Get Started: using the Leader Guide with a day-by-day discussion guide for each lesson, you are all set.
Be sure to check out Frequently Asked Questions here.
NEW! Embracing Purpose Virtual Groups
For leaders and life coaches: During these challenging times, consider forming a virtual group where women living in various locations watch the video series online and then meet virtually as a small group to discuss the week's lesson. Our online video series is now available and shareable! Contact us to learn more about forming a virtual group. New virtual groups (and some in-person groups) will launch in mid-January. Registration is now open! Contact us to be notified when registration opens in December or for more information about virtual groups.  
Register Here for Embracing Purpose Virtual Groups!
Virtual Leader Training with Linda Slaton
Embracing Purpose is joining the throngs of people using virtual platforms to connect with their people and achieve their goals. In June of 2020, author Linda Slaton launched a virtual leader training program to equip facilitators in best practices so that they can lead Embracing Purpose groups with great confidence. The training consists of 3 Equipping Sessions and 11 weekly leader's meetings to coincide with each session of the Embracing Purpose study. If you would like to become equipped as an Embracing Purpose leader, you can also work through the virtual leader training. All training sessions conducted during the summer of 2020 were recorded and are now archived for use by future leaders. Contact us today to learn how you can access those sessions and become equipped and, if interested, certified as an Embracing Purpose leader. 
"In Proverbs 20:5 we read, 'The purposes of a [wo]man's heart are deep waters but a [wo]man of understanding draws them out.' I'm looking for 'women of understanding' who have good people skills and desire to see women become difference makers for the kingdom. I'll guide you through each session and equip you with the skills you need to win as a facilitator – and enjoy every minute of it!" ~ Linda Slaton
If you would like to learn about how you can be a part of the Purpose equipping team, contact us today. You don't have to complete the Embracing Purpose program to take part in the training & lead a small group. 
Embracing Purpose Church Kick-Off
There's no better way to launch the Embracing Purpose program in your church than to invite author Linda Slaton to conduct a seminar or weekend retreat to promote the upcoming launch, conference, or workshop for the women of your church. Contact us for more information about bringing Linda to your church.

Embracing Purpose has been so valuable for us. We've seen women come in unsure about themselves and come out having a real clear idea of how God's uniquely gifted them.
Leadership Training
Linda offers excellent leadership training for small group facilitators, those leading Embracing Purpose groups as well as other women's ministry offerings, and for anyone wishing to enrich everyday conversations. In Coach Approach to Facilitating, Linda guides participants in the art of listening, asking and believing in people as God believes in us. He interacts with us in terms of our potential, not our problems, seeing who we could be and speaking in to that. Good facilitators learn to do the same and seek to develop a heart like His.
In order to develop an effective Women's Ministry, it is essential to equip leaders through training.  Linda Slaton's Coach Approach to Facilitating gave our small group leaders practical tools on active listening and the art of asking questions.  Her presentation is warm, honest, and engaging.  Our women were better equipped to build relationships with each other and grow closer to the heart of God. ~ Mary Ann Ruff, Women's Ministry Director, Hope Church, Memphis
If you would like more information about having Linda come to your church, contact us today.
Embracing Purpose Getaways
This three-night getaway is designed for leaders to work through the Embracing Purpose material over a long weekend prior to launching the study in their churches or homes. It may also serve as an option for interested "learners" who, for whatever reason, are unable to participate in the 11-week long course. If you would like more information about upcoming Getaways or how you can host a Getaway in your area, visit the Retreats, Getaways, and Conference page.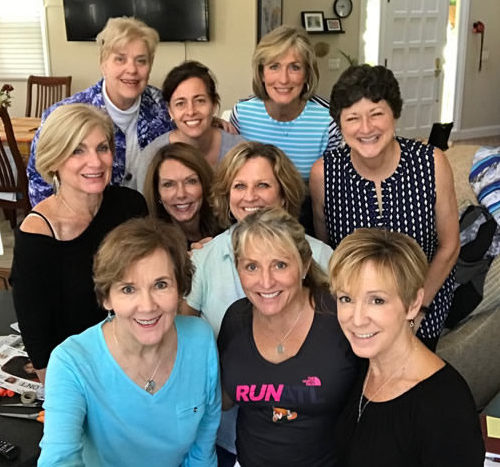 Leaders, watch the first video of the 10-message series here at no charge!
The 22 minute message gives an overview of the Embracing Purpose course and offers a sample Linda Slaton's intimate, story-rich speaking style.
Bring the Embracing Purpose study to your church with the following tools:

NEW!


Free Sample Lessons

If you would like to preview the study prior to making a purchase, check out our free sample lessons (lessons 1 and 2) from the Embracing Purpose Self-Discovery Workbook.
Embracing Purpose At-a-Glance | DOWNLOAD NOW
This document answers the following about Embracing Purpose:
What Is Embracing Purpose?

Who is EP for?

How is EP different from other studies on Purpose?

What's the cost & time commitment?

Who is author Linda Slaton?