Laurie Currier
Her Father's Legacy Fueled Her Purpose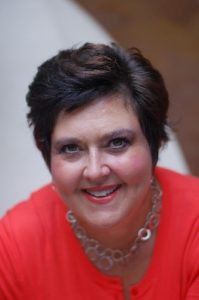 As her Embracing Purpose class was ending, Lauri Currier's dad was losing a two-year battle with liver cancer. Little did she know at the time that the self-discovery process she had undertaken would lead her to a mission that would deeply honor her father. "All I knew was that I wanted a vocation in keeping with my Unique Design," she said. "I wanted to do something significant for the kingdom that mattered to me personally, something that I could do especially well . . . And my daddy mattered to me! He was a world-renowned physician in his field, the world's best father to me and husband to my mother. And I attribute much of his success in life to the adoptive family who raised him."
Orphaned at two, Lauri's father came into foster care and was eventually adopted. Through Embracing Purpose, Lauri began to connect the dots of her life and wondered if she might be able to use her gifts to make a difference in the lives of the fatherless. "God placed firmly on my heart the plight of children suffering from abandonment, abuse and neglect" she said. "I knew my dad was one of those who, by the grace of God, had been placed in a stable, loving home where he thrived. I was uncertain where God would lead but continued to pray that He would put my feet on His path."
Soon, Lauri heard about The CALL, a non-profit ministry that recruits Christian foster and adoptive families for children in foster care. "When I discovered that Mary Carol Pederson, a woman in our church, serves as executive director for the organization, I knew I had to contact her," she noted. Lauri sent her an email asking if she had any job openings. She learned that they needed help but had no funds available for hiring.
Lauri kept in touch and, three short months later, joined The CALL (Children of Arkansas Loved for a Lifetime) as communications coordinator. Today, she is the statewide director of The CALL. "It's my dream job!" she says. "I get up every day and do something I absolutely love, something that's changing the lives of children in foster care . . . When I ran into one of our pastors at church, I told him that I had taken a job with The CALL. He told me that he had been praying for funds to become available for another hire and for that special someone to be found. What a great way to be described by someone–as an answer to prayer!"
Since Lauri began working at The CALL, she has helped recruit eighty-five new foster and adoptive families. She has seen more than two hundred children placed in foster homes and more than fifty children adopted. The ministry is thriving, and so is Lauri!